Manchester Hot Glass is a glass blowing studio & gallery open daily to the public. We are located in the beautiful historic Depot section of Manchester, Vermont. Stop in and shop our gallery, or call and book one of our popular Glassblowing classes! We offer a full line of beautiful hand blown glass & jewelry. Custom orders are our specialty, along with bridal party gifts & wedding registries.
Other services include glass & crystal repair.
We hope you make it off the beaten path of Manchester, Vermont to find us.
Manchester Hot Glass // Interview with Andrew Weill by Jack Geurts.
————————————————————————-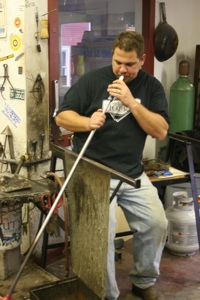 about Andrew Weill – owner & artist, Manchester Hot Glass
Weill grew up in New Jersey and started working with glass as a teenager. "Right from the start I learned a great lesson in humility. Glass is an amazing material – it can be hot and malleable and cold and delicate all at the same time. There is nothing like it. The surprises it can produce are equally as unique. Needless to say, it is a very humbling experience to watch as your work hits the floor, or cracks in the process of being made."
After receiving a BFA in glass from Franklin Pierce College, Weill entered the world of production art glass. He worked at several small studios around New England, and continued honing his skills in glass. In the summer of 1998, Weill accepted a position in a small shop in southern Sweden. While working and traveling for nearly a year in Europe, Weill found inspiration in many of the European glass houses."What a feeling to stand in a glass shop who's furnace has been roaring before America was even discovered."
Andrew Weill started MANCHESTER HOT GLASS in the summer of 2000. The first pot of glass was melted on the 4th of July, and the first pieces were blown on the 5th. The gallery doors opened on the 6th, and there has been no looking back since. Weill has worked to create a line of glass both functional and affordable, but most of all beautiful.
"I blow glass simply because I love it. If I can afford to go to work each day and do what I love, I figure I'm better off than most." – Andrew Weill
———-
art statement
Glass to me is a lifetime pursuit of knowledge and skill. There is always something new to learn and skills that can be improved upon. As a glass blower, I am primarily concerned with the issues of design, it is my goal to create unique pieces that people will enjoy.