Named for their bright, fun color applications, this bowl is a striking conversation piece whether used at your dinner parties, or posing on your sideboard. Each piece is hand-blown, no two are alike. An average fiesta bowl is 2.75" tall, 9" wide at top, 3" wide base. Color combinations pictured are grass green/light blue/white, ruby/purple/white, granny apple green/amber/white. You can order custom colors and sizes.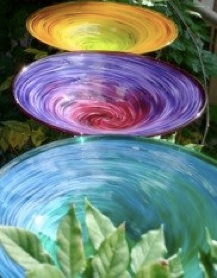 $100 each
Vermont handmade blown glass.
Please call 802-362-2227 or email to inquire on current stock or to custom order.