Perfect bridesmaid gifts! A truly unique and beautiful way to keep your perfume or essential oils. Color and shape are completely customizable.  We create perfume bottle styles to suit you, and can create one for you in any price range. Currently we have both cane and marble styles in stock.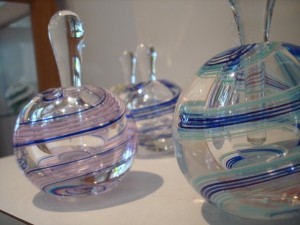 $85 each, contact us for custom perfume bottle designs and quantity pricing.
Vermont handmade blown glass.
Please call 802-362-2227 or email to inquire on current stock or to custom order.